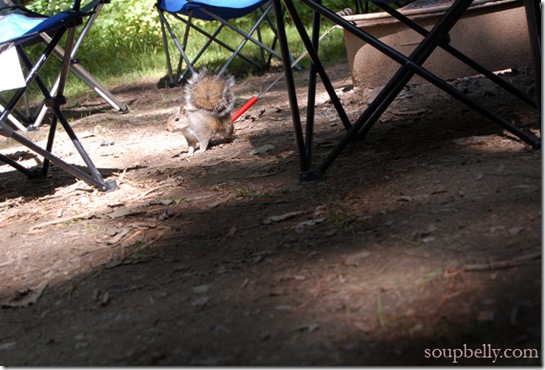 For my last camp post, I'm consolidating all the photos for the rest of the week. Mostly because I'm lazy. And because if I don't consolidate, then I might never finish the camp posts.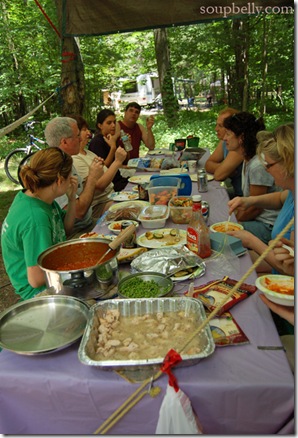 So, what do you picture when you imagine camp food? Skewered hot dogs over a campfire? That's what I always pictured. But our meals usually looked like the picture above. Chicken spiedies, chili, grilled squash, peas, potatoes with peppers, banana bread, bean salsa, fruit salad, pasta salad, potato salad, macaroni salad, hot dogs, etc. And that was only lunch. Dinner was usually the same, but also with extra steak, chicken, burgers, sausage. You know, just the bare essentials ;)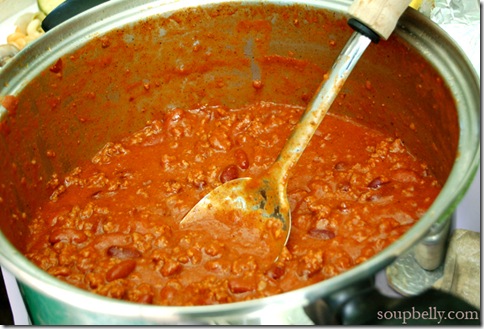 This chili was fantastic! On our last day of camp, we had to eat EVERYTHING. Meaning, all the leftovers in the coolers. Boy, was I excited when I had an excuse to stuff more chili in my face. I used it to make a chili dog…and then I used it to top a sausage patty. I'm a pig, I know.
Good thing we were active all week, or I would've came back home 10 pounds heavier.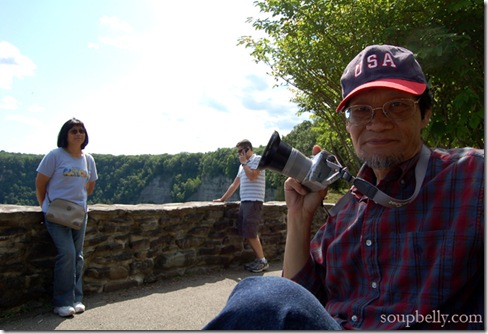 My parents came to visit us on one of the days. We took them all along the Letchworth gorge. Even though my parents have come to Letchworth for site-seeing many times before, it might've been better this time. It was a weekday, and there were no crowds, no trouble to find parking. Second of all, since my husband and I were the chauffeurs, they could just sit back and enjoy the scenery without the hassle of driving.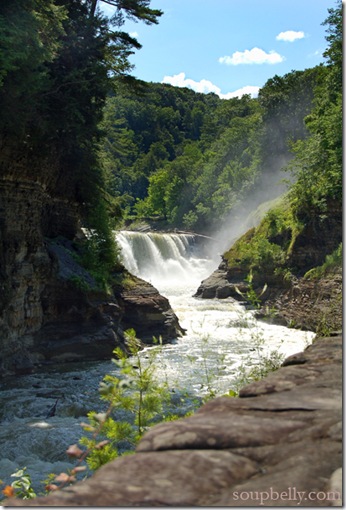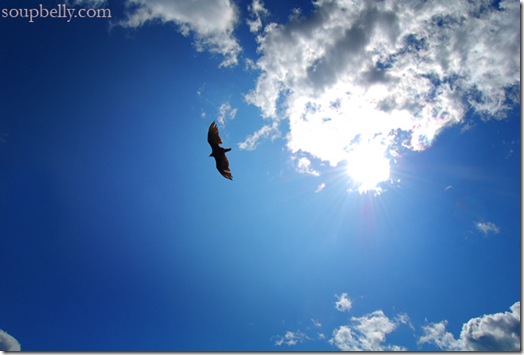 It's times like these I wish I had a telephoto lens.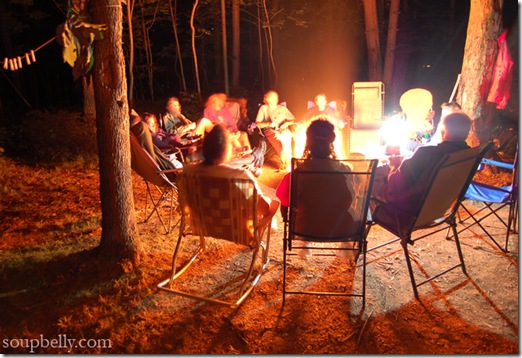 I just like the composition of this night photo.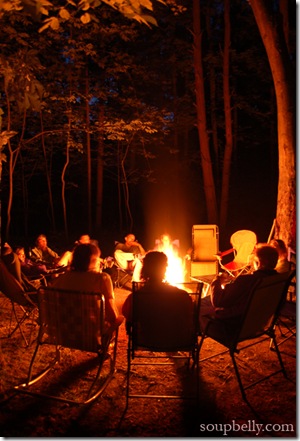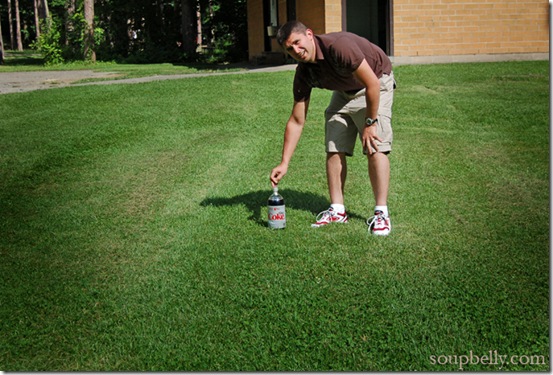 The diet coke + mentos experiment.  Honestly, I wasn't interested in this experiment, but I'm pretty sure at least 90% of you will be. Why? Because I think I was the one out of ten that wasn't that interested. Lemme sum up the point of this experiment for you:
Ingredients: 2 liter of DIET Coke (and it must be diet, and coke) + 5 Mentos candies = big explosion of carbonated foam that can reach upwards of 18 feet.
How to make this: http://www.stevespanglerscience.com/experiment/00000109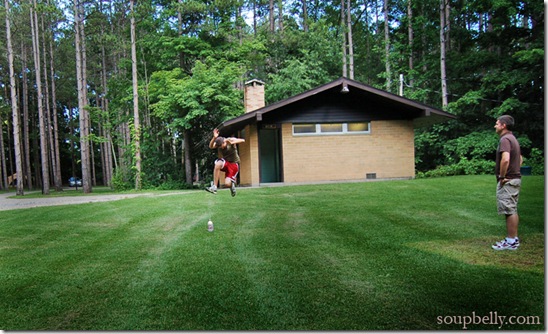 We attempted the experiment on 2 bottles. The first bottle fizzled out unsucessfully, I don't remember why. Of course, SS had to run and jump over the fizzling bottle, because he wanted to be covered in diet coke. Yum.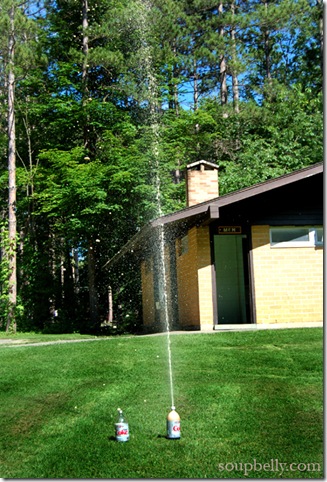 Now, the second bottle went off sucessfully, as you see here. Chris estimated it shot up 15 feet. So…yay for fizz!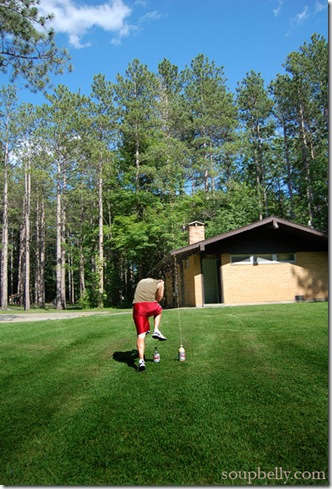 Why didn't you jump THIS time, SS? Shortly afterwards, SS grabbed the bottle and started spraying Chris with it. And Chris fled from the scene, yelling, "I didn't bring an extra change of clothes to camp!" Oh you had to be there…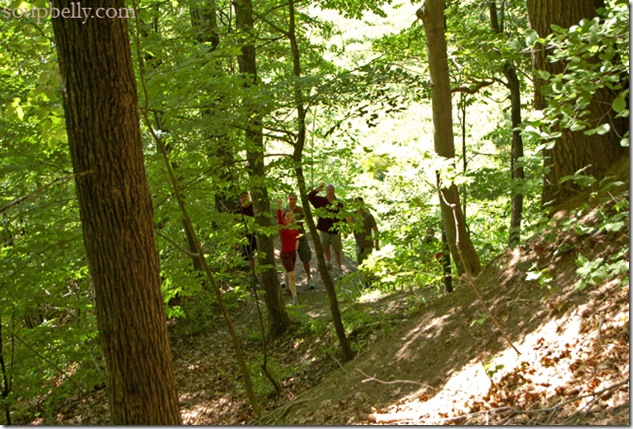 A picture of everyone except the photographer standing below this steep hill. I have no shame in admitting I'm a klutz and know that I will fall flat on my face if I went with them. Oh…I mean…I was the only one with a cell phone and needed to stay up top in case I needed to call 911. Yea…that's it.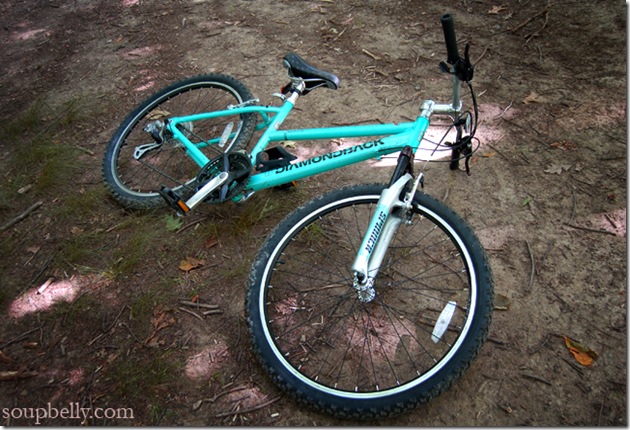 This is my bike. I love my bike. I haven't fallen once since I bought it (knock on wood).
Other bikes.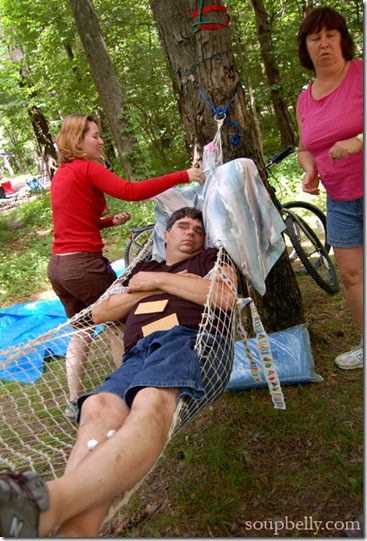 My FIL celebrated his birthday at camp. As a gift, graham crackers and marshmallows were left all over his hammock while he napped.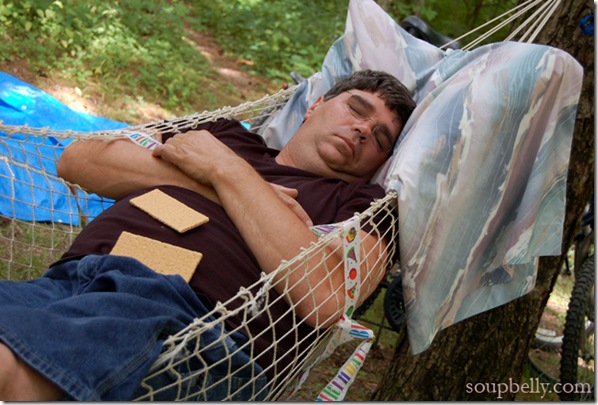 We were unsuccessful in luring the racoons to him. Doh! Irish Pirate, I like the Happy Birthday ribbon, it added that special touch!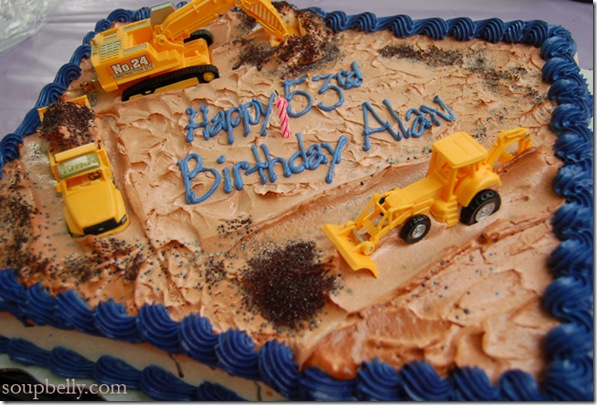 Isn't it great to eat cake at camp?? I thought this cake was pretty cute. Especially the dirt frosting…mmmm. :) Thanks to my SIL who brought this cake miles and miles and miles to camp.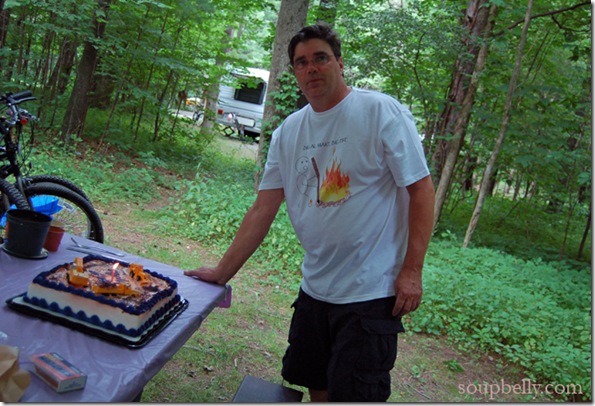 He only had to blow out one candle, probably because they didn't have a fire extinguisher for the actual number of candles that should've been there. Ooooh burn!!! Literally.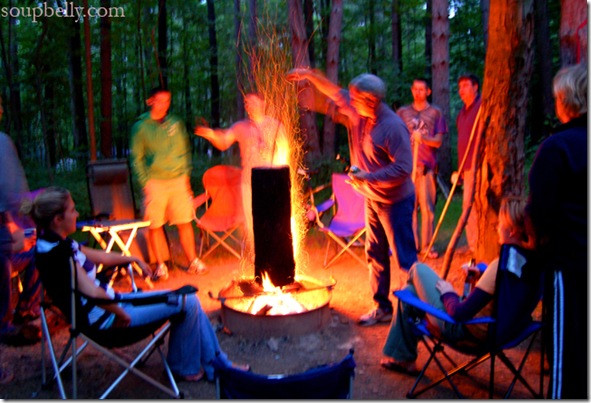 This was the last night at camp. For the last few days leading up to this night, the men burned, dug out, burned, dug out, burned, drilled out this enormous tree trunk. They were so persistent and hard working. I was amazed that they took this job so seriously, and such effort was made in the attempt to have this thing BURN on the very last night at camp.
The burning and digging out the center of the trunk helped it burn consistently on the last night. And it was cool because the fire came out of the top of the trunk. Guys like fire. Fire fire fire!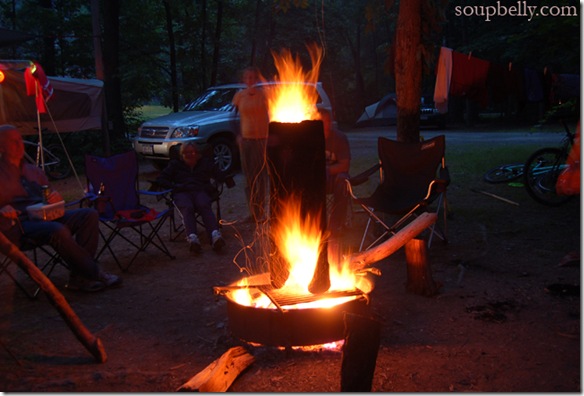 Even though I'm a big sissy, and don't like fire, I still admired it.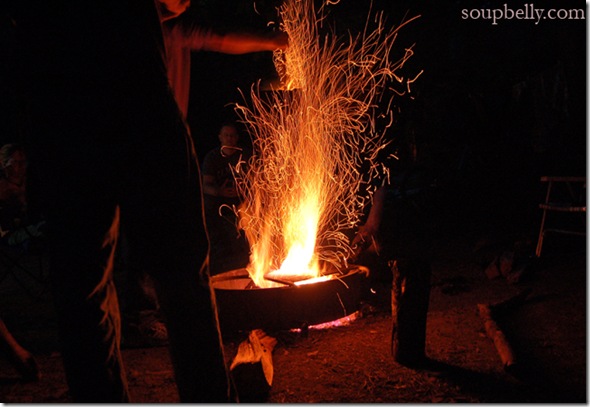 Ooooooh….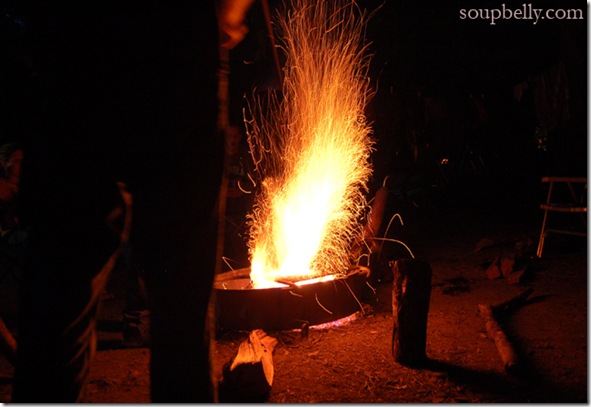 Ahhhhh……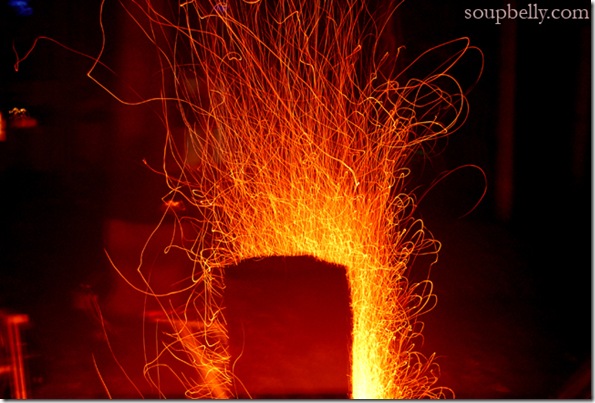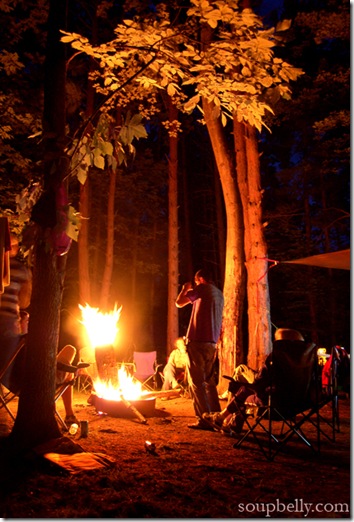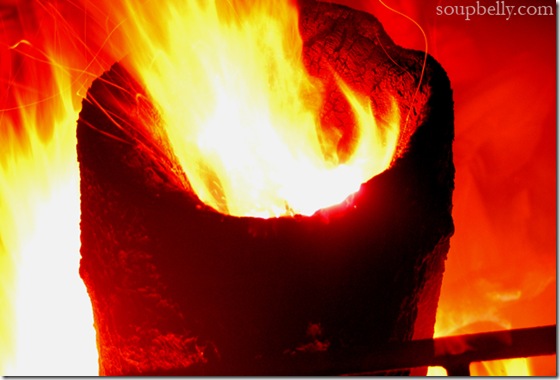 Hope you enjoyed reading about our Camping trip!