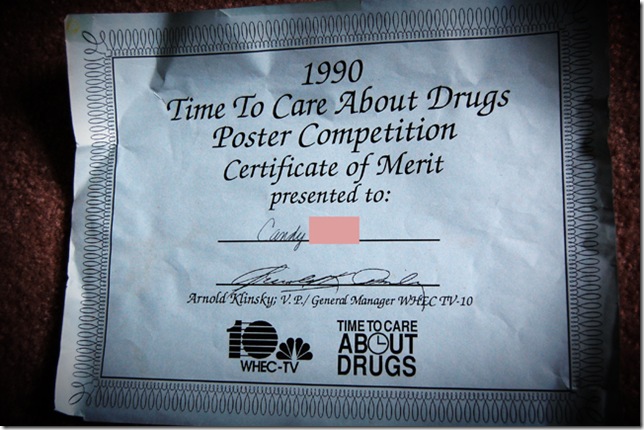 I don't want to jinx it, but there is a strong possibility we might be moving far, far away soon. Where? I'm not telling. Yet. But when I told my mom the possibility, she said this:
"Candy, clean your room before you leave."
She didn't say it exactly like that…but it sounded like it did 15 years ago…like… "CANDY, CLEAN UP YOUR ROOM NOW!!!"
*shudder*
I moved out at 18 when I left for college, and I left my room the way it had been; in a disheveled mess. It's been 11 years. I had junk in the desk drawers, clothes in the closet, Baby-Sitters club books on my shelf, diaries laying around, artwork shoved underneath my bed, and a folder packed with letters from pen pals. Oh, and all these awards were crumpled up here and there. I might've lost my high school diploma, and I think my dad found my college diploma, since it is now framed and hanging on the wall now. I was never that into the awards I got.
What I really wanted was a trophy. A nice shiny plastic trophy. Awards on paper were so tacky.
The award above was found in a stack of pen pal letters. I kept it because it was funny. That's right….I didn't keep this because I had pride in it, I kept it for the funny factor.
I mean…did I really care about drugs enough to receive a Certificate of Merit?! What does that even mean, 'Time To Care About Drugs'? Shouldn't kids NOT care about drugs? It looks like some dumb award a local news station would give out to kids to give them something to report about. Oh wait…wow…that's a coincidence, it IS a dumb award a local news station gave to kids!
And another thing…it looks like I had to write my own name onto the certificate. It goes to show you how much they don't care about the kids who care about drugs.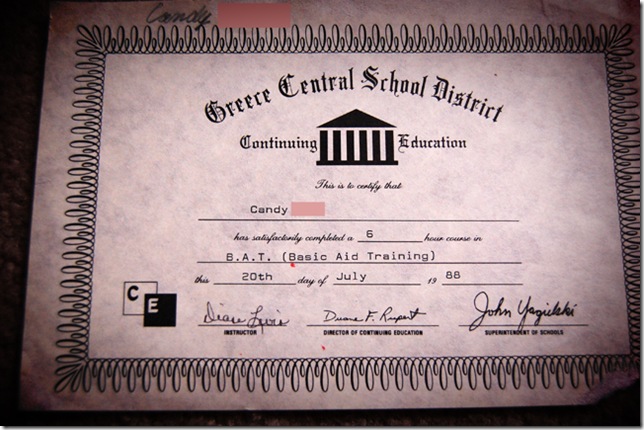 This certifies me in handling basic aid. Like…putting band-aids on cuts, performing CPR, you know, all the stuff any 8 year old can do. And since my certification doesn't look like it expires at any time, I guess I can still save lives.
Please don't put your faith in me. Sometimes I forget to put Neosporin on a cut before slapping a band-aid on it.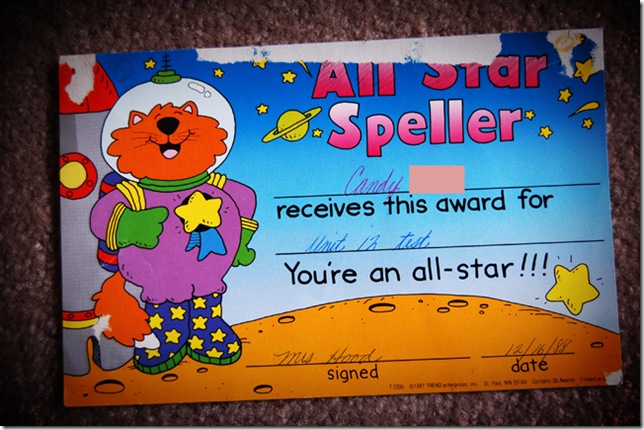 This is really embarrassing. I used to be a really, REALLY great speller. And now I can barely spell without double checking with my spell-check because my 29 year old brain has turned to cottage cheese + mashed potatoes. OMG. I almost spelled potatoes 'patatoes'. Need I say more?
I blame AIM and Texting.
But I wanted to share this because it is proof that one day, a LONG, LONG time ago, I did speel good. I was gooder than most speelers.
And who doesn't appreciate a colorful award with a cat in an astronaut suit? Those are exactly the kind of awards I strived for!
The dogs in astronaut suits just didn't cut it for me. Ha. Ha.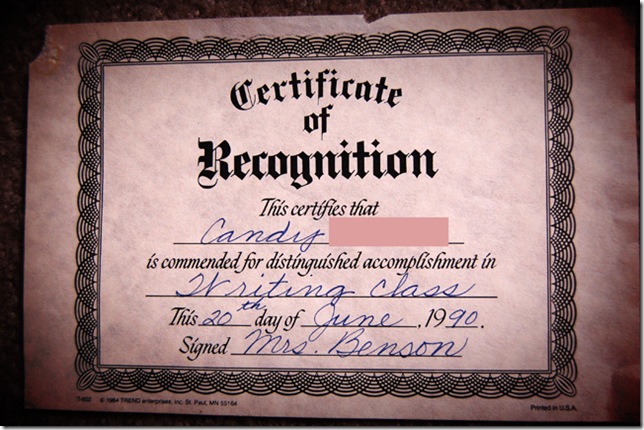 And this here certifies me to write a blog. Not only do I care about drugs, set broken bones while performing CPR, and spell good, I apparently can manage a blog as well as any competent 10 year old can.
I hope you enjoyed taking a ride down Soupbelly memory lane as much as I have.
I realized the reason I could never accomplish cleaning out my room was because I'd look at something I was about to chuck into the garbage, sit there and think about when, where and why I had the object I was holding in my hands. I couldn't even clear one single drawer. Everything had some sort of purpose, or meaning behind it, and I figured…it wouldn't hurt to keep this a little longer…
When I found all my diaries, I shuddered. Diaries are the epitome of awkwardness. I couldn't even read them, they were way too…awkward. Ugh, teen angst! It was like watching a teen movie unfold on paper. Without all the hard-core drinking and drug taking and relationship stuff. It was more about how I was such a dork. I mean, I was the kid who watched X-Files every Friday night instead of going out to parties and dates. I could barely find a date to my senior prom. Yes, these are really humiliating confessions. I sat in my room and drew pictures and painted as I listened to my Nirvana or Smashing Pumpkins CDs. Instead of participating in sports after school, I had a part time job sitting in a cubicle like a grown up, doing office work everyday. On weekends, I went to private art classes just to hang out with other dorky people like me.
Hey…wake up. You think it's boring to read this? Imagine how boring it is for me to write it.
I was the most boring teenager on the planet.
After dousing my diaries with gasoline and burning them into the deepest depths of hell, I found a heaping pile of pen pal letters from many different people. Maybe the blog thing stems from my need to write to random people. I had pen pals from Buffalo, NY, Virginia, Washington, Germany, France, and various cousins in NYC. I also had a bunch of fake yearbooks I concocted. You see, my school produced a year book every year, from middle school to end of high school. And my parents didn't want to spend money every year for a yearbook. So, I would go around asking people to sign my notebook, that I'd slapped a 'Yearbook' label on. Of course, maybe this was why I didn't have a lot of friends, because I was such a weirdo. But I got a lot of signatures and 'have a fun summer' comments and even a few phone numbers. On a steno pad.
And last but not least, I found the very first phone number a boy gave me. I only kept it for the funny factor again. You always see people give each other phone numbers on TV, and it was utterly hilarious to me that I got one in real life. Of course, it was from a boy at a high school graduation party. I didn't even call him.
The irony.
As I was blabbering on to Chris and gushing over the piece of paper with a phone number on it, Chris rolled his eyes and excused himself out of my childhood room. It's crazy that a dork like me got married after all this awkwardness.
Then again…I'm not the one who asked a girl out on a date to a Michael Bolton concert (ahem). Maybe I'm cooler than I thought…