Since we are moving so far away, we decided to scrounge up a couple extra days to attend my grandparents' birthdays in New York City this past weekend. I was always too busy to make it every year, and even though we're 10x more busy now than before, I realize that a hectic schedule should never be an excuse. Plus, it looks like I have a theme going weekly now, called 'I ate a lot in ___________ (insert city)'.
We celebrated each birthday with a traditional Chinese banquet. I don't have many family photos here because I didn't know if they'd be comfortable on the blog. So I'm only showing food.
So, what's in a Chinese banquet? The photo above is some stuff I took from the appetizer dish, which consisted of a variety of foods served cold. I'm going to name them to the best of my ability. The noodle like substance on the top left corner is jellyfish with pickled turnips. It's one of my favorites. It has a jelly-like texture (surprise surprise, right?) that closely resembles noodles, with a sesame oil flavor. On the top right is fried pork chops with salt and pepper, bottom right is beef tongue, and the bottom left is fried onion rings with pepper.
You're probably wondering 'if you eat beef tongue, does it taste YOU???'
….or is that just me?
Anyway, these dishes were for my grandmother's birthday, at a restaurant in Flushing, Queens.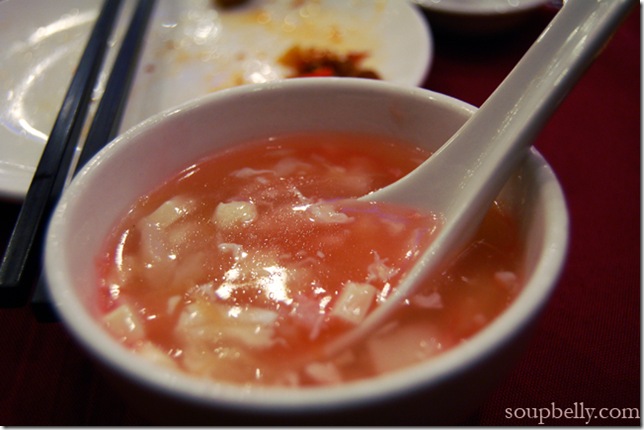 Next is the soup dish. This was a seafood soup with scallops, shrimp, crab meat and tofu. You have the option of drizzling some red vinegar into your soup to cut the fishiness. It's not necessary, but I like the vinegary flavor.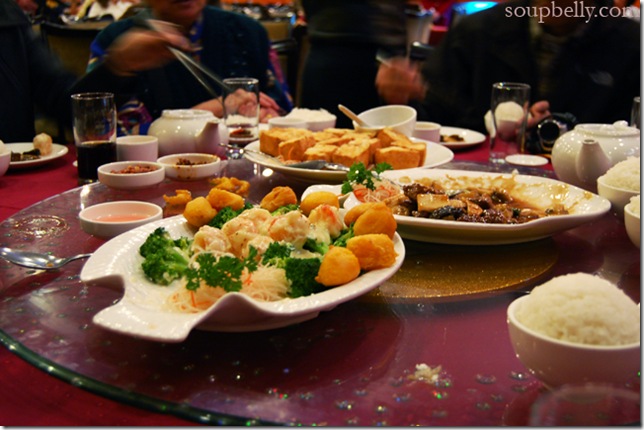 Top – Deep fried tofu with shrimp
Middle – Stir-fried beef with shiitake mushrooms and onions
 Bottom – Deep fried shrimp with deep fried custard and broccoli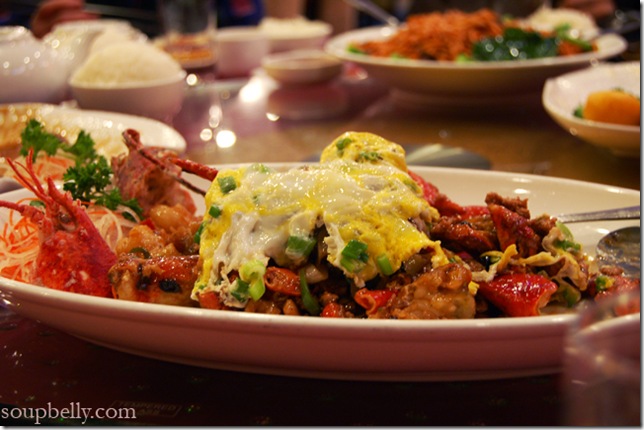 Lobster stir fried with egg, pork and scallions.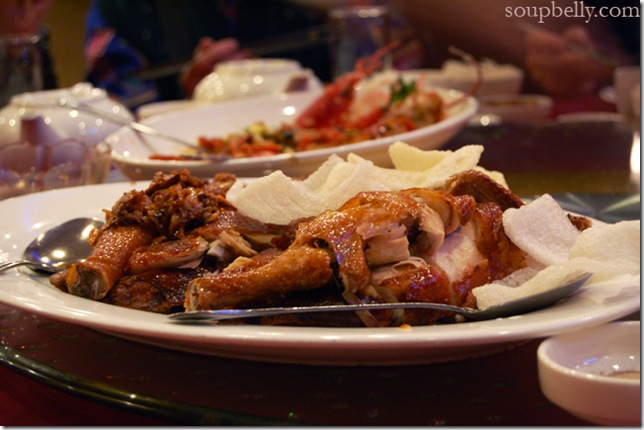 Crispy chicken with prawn crackers, served with cooked salt for dipping.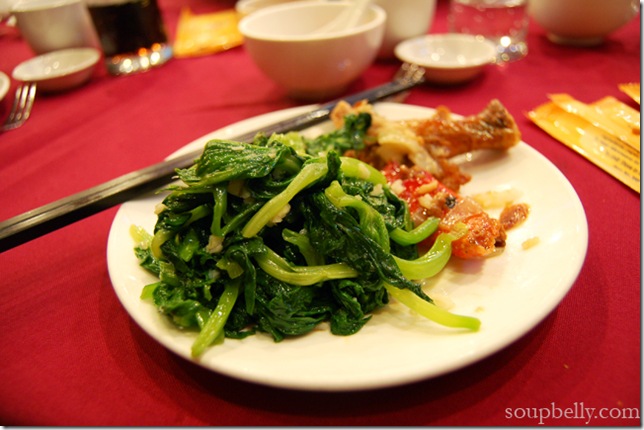 On my plate is snow pea leaves sautéed with garlic.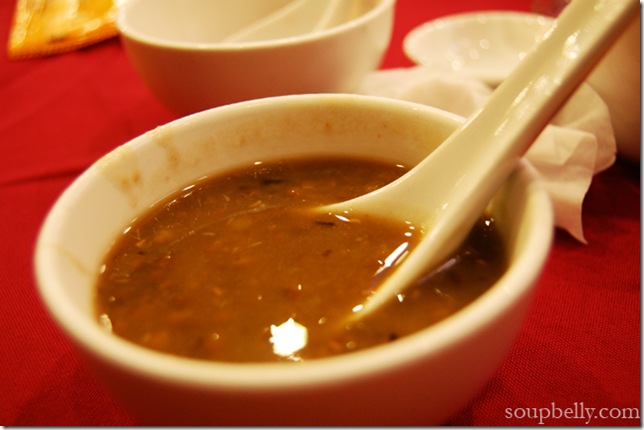 And for the last course is a sweet red bean soup.
On Saturday, we attended my grandfather's 95th birthday in Chinatown. This is what we had: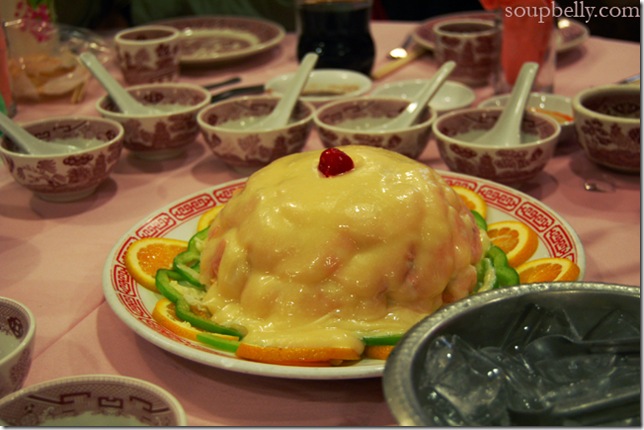 The first course is a cold appetizer. This is a fruit salad with shrimp, covered in a mayonnaise based dressing. I know the flavor must be totally out there for most of you. And people either hate it or love it. But I liked it, even though sometimes it feels weird to eat so much mayo. Then again, I like mayo.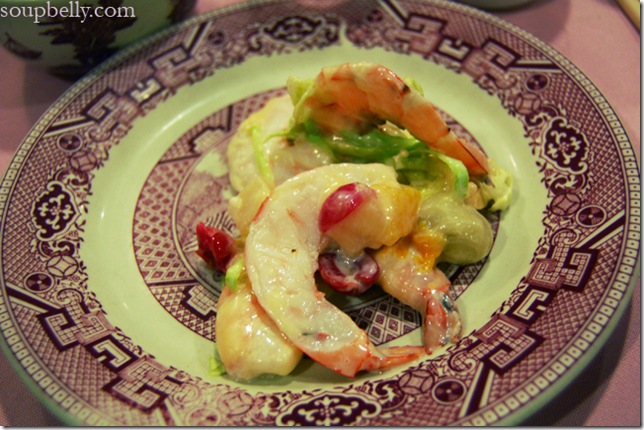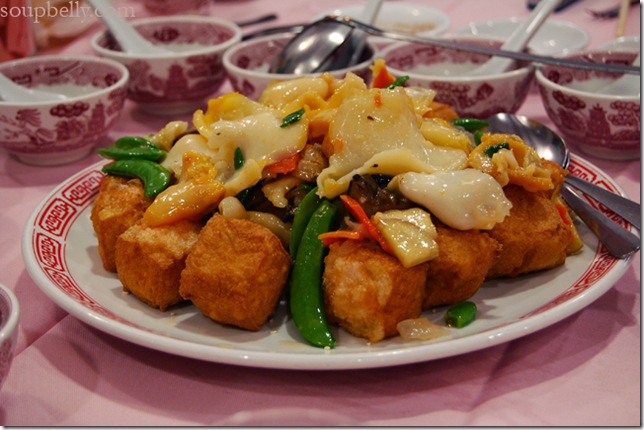 The second course was deep fried tofu with shrimp, conch and vegetables.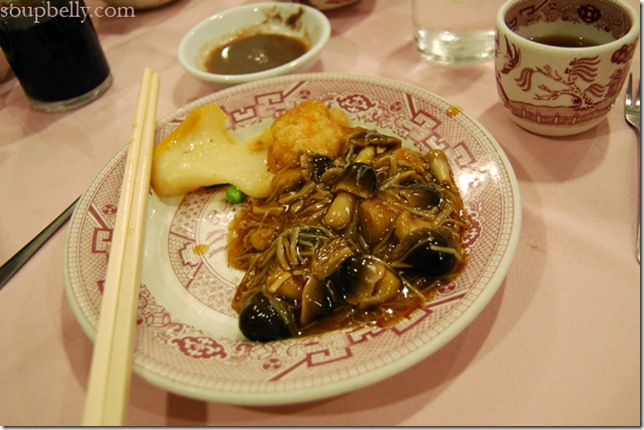 Third course was black mushrooms with dried scallops.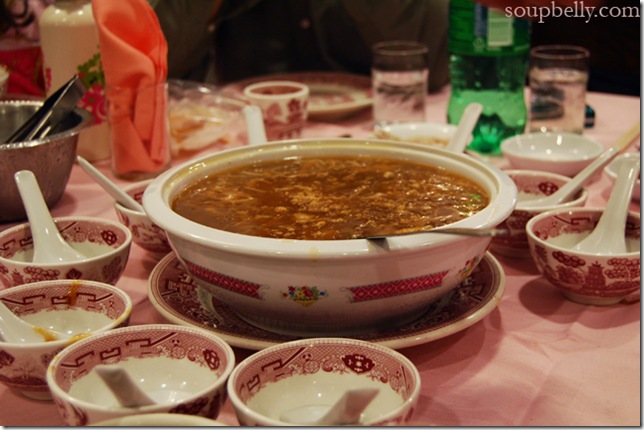 Fourth course was shark fin soup.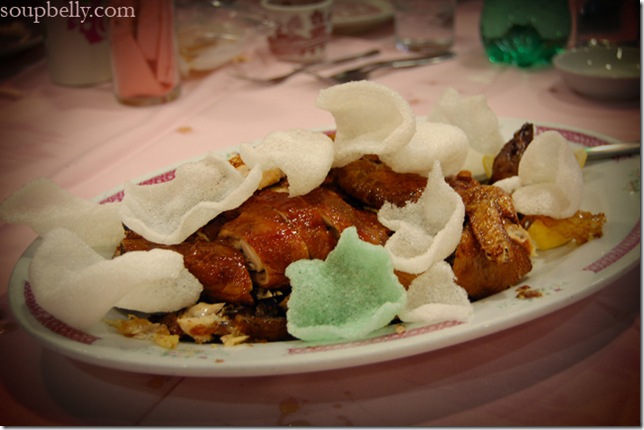 Fifth course was crispy chicken with prawn chips.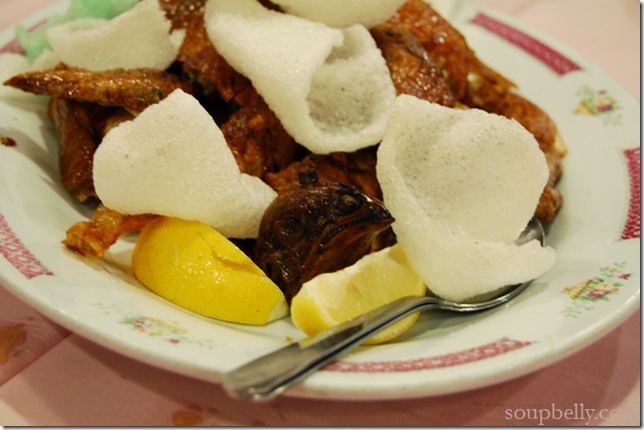 I had to get a picture of the head here. It still makes me chuckle that some people freak out when they see the head, since it's never been an issue in our family.
I mean, it's the best part of the chicken to eat.
Just kidding. Nobody eats the head.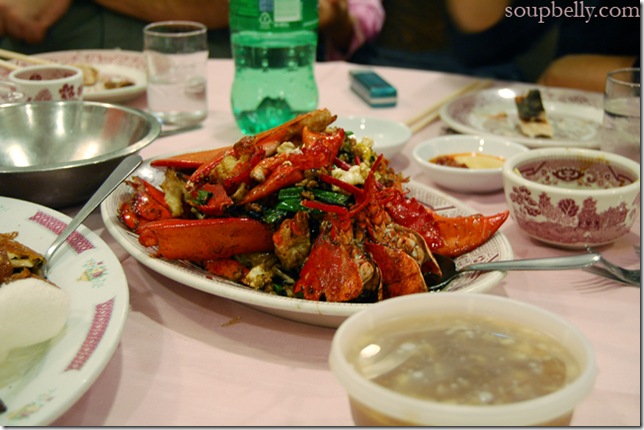 Sixth course was lobster stir fried with scallions and ginger.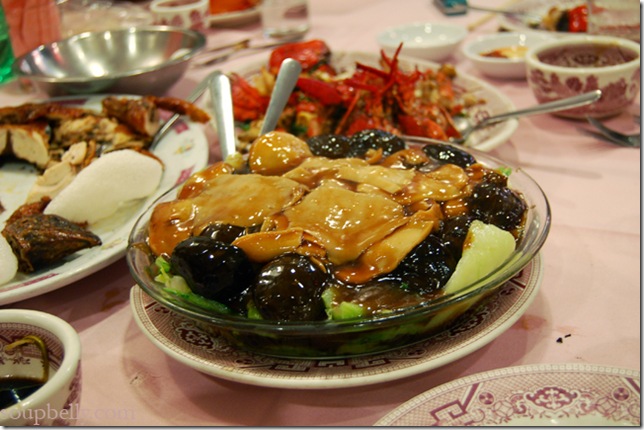 Seventh course was abalone with shiitake mushrooms and bok choy, covered in oyster sauce.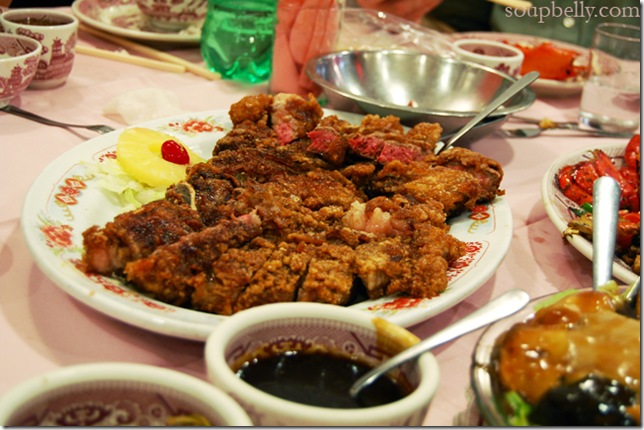 Eighth course was deep fried steak.
The deep-fried part was just too much for me. Yes, even me.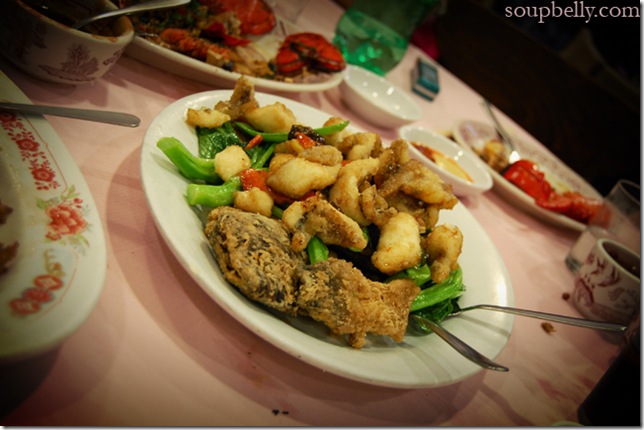 Ninth course was deep fried fish with gai lan.

Tenth course was Yi Mein stir fried with vegetables.

Eleventh dish was Fried Rice.
The starchy dishes are always served at the end, in case you didn't fill up on the other dishes. Usually most of these dishes sit there untouched and somebody gets to take them home.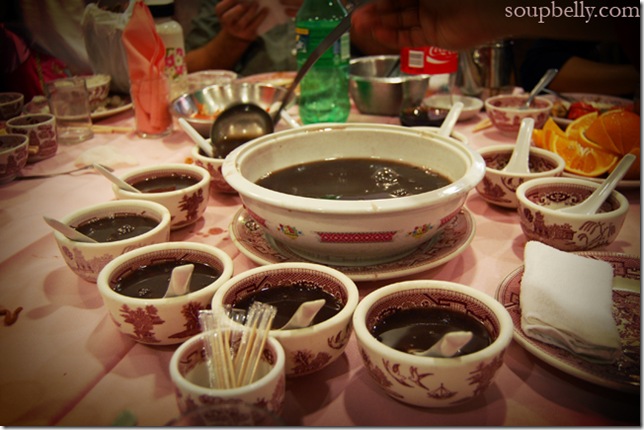 And the last dish was a sweet soup, I believe with red beans.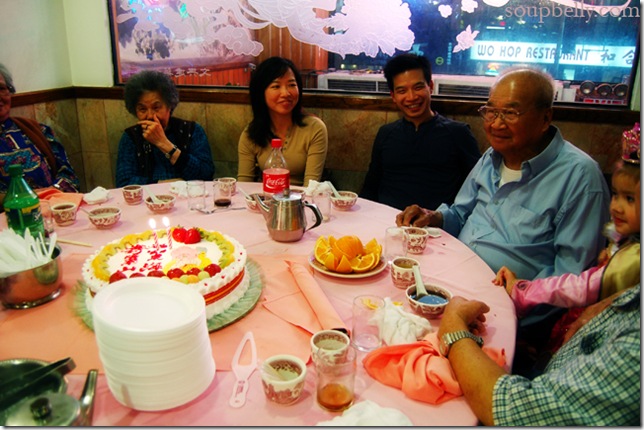 My grandfather is the one in the blue shirt. When he was in the cab on his way to the restaurant, my mom asked the cab driver to guess my grandfather's age. He answered 70.
Of course, the cake only had 2 candles since 95 might've been a little too excessive.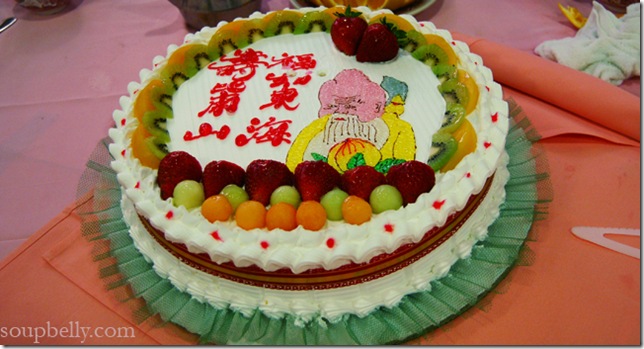 The cake was covered in fruit, whip cream and is pretty light and spongy. It's not too heavy. Chris ate my slice and his own.
After this dinner we went to a bar to watch the Yankees game, drank a couple beers and ate nachos.
Yes, nachos.