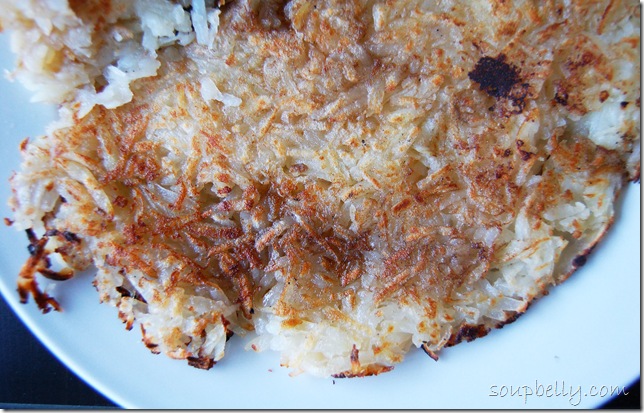 I've been trying out more simple recipes nowadays. This one requires potatoes, salt and butter. The directions couldn't be any simpler either; boil potatoes, peel and shred, pan fry and salt.
Rösti is a Swiss potato pancake. The dish is similar to hash browns or tater tots, and can be eaten as a main dish or a side dish. There are many variations which include adding extra ingredients into the pancake, such as bacon, cheese or apples. I wanted my first attempt to just be potatoes. More specifically, Russet potatoes. Russets are starchy, and fry up nicely with butter, golden brown and crispy on the outside, and soft like mashed potatoes on the inside.
I saw two methods for making Rösti, and that is using raw vs. boiled potatoes for frying. If you use raw shredded potatoes, it will take approximately 50-60 minutes to fry on the pan. Using shredded boiled potatoes takes 20 minutes on the pan. Obviously I chose the latter.
Rösti
makes 4 servings
Ingredients:
4 medium russet potatoes

4 Tbsp. butter

1 tsp. salt
Directions:
1) Boil potatoes in their skin until al dente (to check for doneness, stick fork into middle to see if it slides out easily).  Set aside to cool in the fridge for at least 2 hours. When ready to cook, shred them with the coarsest shredder size you have, and combine with 1 tsp. salt.
2) In a non-stick pan on low heat, melt 2 Tbsp. butter. Add shredded potatoes, pressing firmly into a cake with a spatula. Cover with lid and cook for 10 minutes, or until bottom is golden brown and crispy. Take lid off, and slide pancake onto a large plate. Flip pancake upside down onto another plate so the un-fried side is facing down. Add 2 Tbsp. of butter into pan, and slide pancake back onto pan to cook the other side for another 10 minutes. When done, slide pancake onto plate and serve, cutting into wedges.
____________________________________________________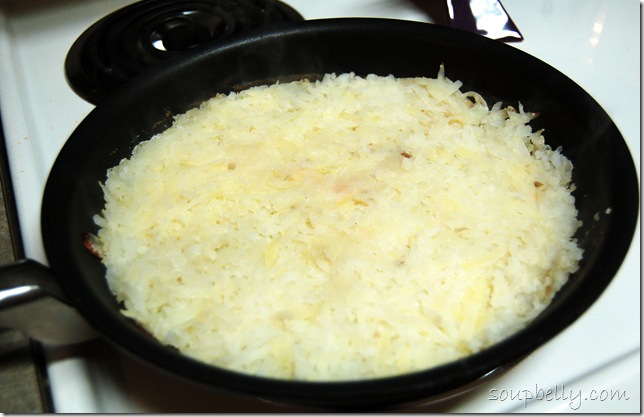 Be sure to press the shredded potatoes down firmly with a spatula onto the pan.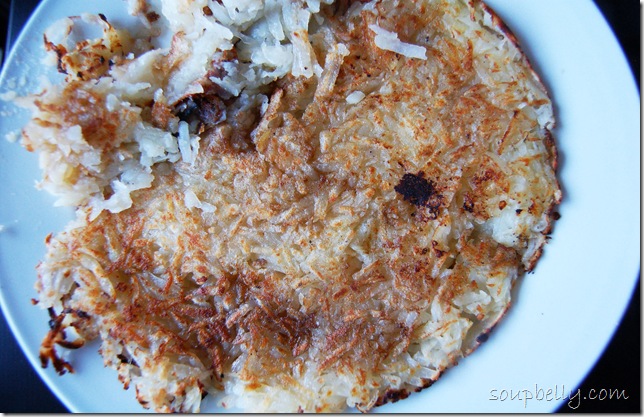 Mine didn't come out perfect. :( I underestimated how heavy the pancake was and wasn't careful with flipping it, which is why I said to use two plates to flip it over on my instructions.
It tasted great, ugly or not. Be sure to have patience when frying on low heat, you want it to have that crispy outer layer and to be strong enough not to fall apart as mine did. But even if it does fall apart, you can just make hash browns :P