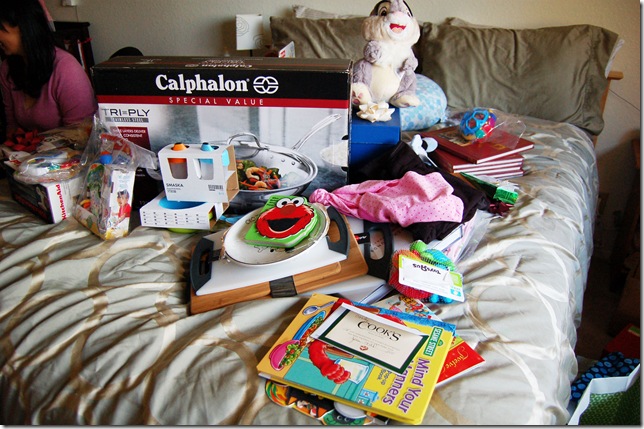 Sorry I've been MIA for so long. Seems like I start most posts explaining why I haven't been posting much. So I'll skip all that since this is a food blog and you probably don't want to hear that I was up to my elbows in soiled onesies scrubbing out gross gooey stains in the bathroom sink yet again. Yea, I'll skip that.
We had our first Christmas in San Diego. Baby got 80% of all the gifts and we all took turns opening her presents. She gets to enjoy the subscription to Cook's Illustrated and that fancy Calphalon wok while I work on my reading skills with picture books and practice using sippy cups.
For Christmas I made chicken wing dip, devilled eggs, cheesewiches and shrimp with cocktail sauce. Lunch was won tons and potstickers. Dinner was beef tenderloin with white wine mushroom sauce, mashed potatoes, carrots and green beans with garlic. I took absolutely no pictures, the beef tenderloin came out of the oven still mooing, but at least everything came out a tiny bit better than my Thanksgiving dinner. Cooking has been more difficult since I have to feed baby in between. I'll try to post recipes for the chicken wing dip and cheesewiches sometime though.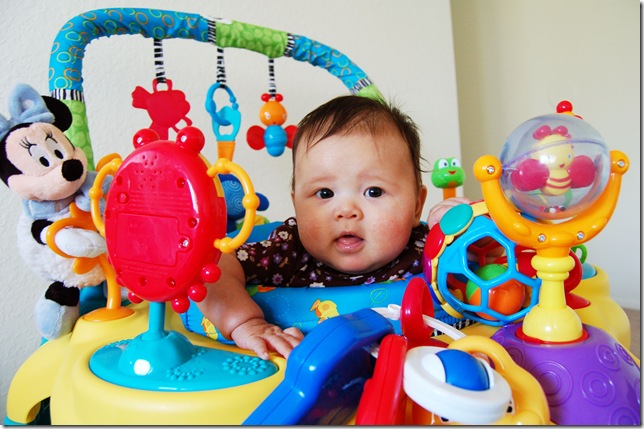 I've become one of those annoying parents that sends an obnoxious amount of photos of her child to everyone she knows. You know the type. As if every single person on earth wants to see cute pictures of the baby. I'm proud of myself for not using a baby pic for my facebook profile picture though. Because I am not my baby. But other than that, you WILL be inundated with cuteness.
See how cute she looks in her Exersaucer? The minute we put her in she gets to work as if she's multitasking at her desk. So much to do, so little time.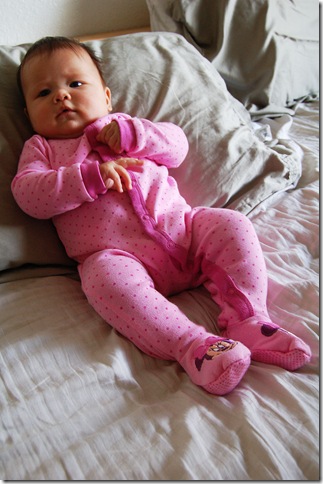 Remember I said I wouldn't dress her in pink, and that there were other colors out there? Well, the more comments I got on how handsome my son was, the more she started to wear pink clothing.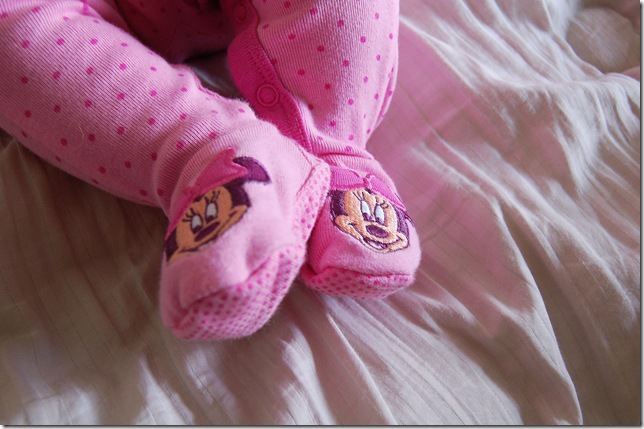 Minnie Mouse footsie pajamas were inevitable.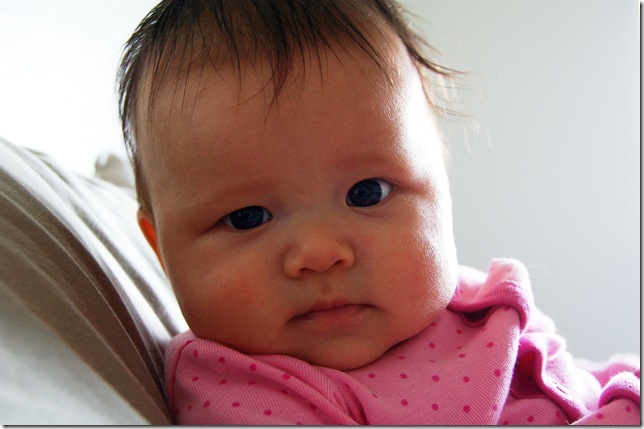 How can I not post photos of this?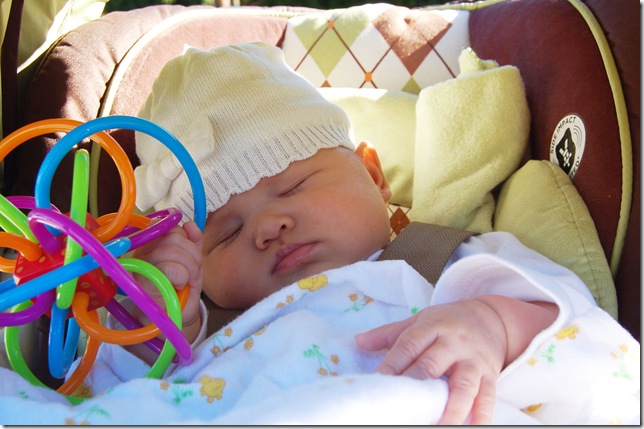 Look at those cheeks.
They make up 75% of her body weight.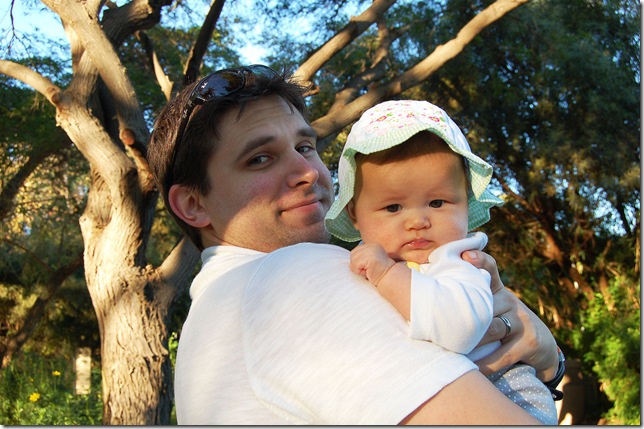 Every time she wears a new hat it's a whole new photo shoot.
Enough baby talk.
New Years was unmemorable. I think the last time we celebrated was back in '07. We didn't even stay up long enough to watch the ball drop on TV.
I don't think we felt like we missed out on anything either. Our clubbing days are so over.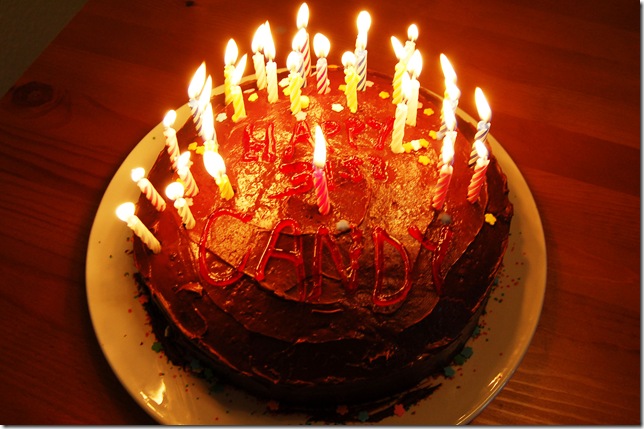 My birthday was nice, aside from the fact that I got older. Chris made this double layered chocolate cake with chocolate frosting. We ate 2 slices each before noon. He also made breakfast (bacon, cinnamon toast, scrambled eggs), cleaned the kitchen, took me clothes shopping and got me sushi for dinner. The baby slept in the stroller the entire time we were shopping so mommy could struggle to fit her flabby postpartum body into bigger clothes. Now I know why there are such things as mom jeans.
Why is it the last 10 lbs. are the hardest to lose? Of course, unlike 95% of the population I did NOT make a New Year's resolution to diet. First of all, because I'm breastfeeding. Second of all, I figure if I just ate and exercised the way I used to pre-pregnancy, the muffin top will disappear. Mmmm….muffins.
Ok I'm going for a walk with the baby now.