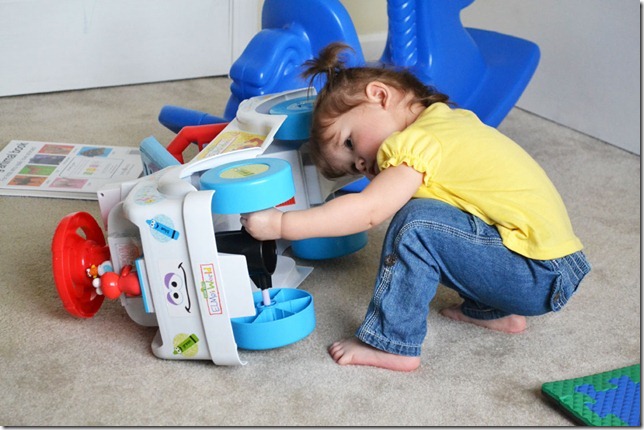 Future mechanic?
People always think there's a never-ending battle between stay at home moms and working moms. Working moms provide more for their families and stay at home moms are lazy and stupid. Or working moms are selfish and hate staying home with their kids. Or stay at home moms are too self-righteous and were martyrs who gave up their careers for their children. Working mom are more educated than stay at home moms. And lots of other crap. I don't know who came up with all these assumptions, but it seems to me that all these moms are doing the best they can. All their situations are different, and making absolute statements about one or the other is close-minded and ignorant. Some moms need to work because they need the money. Some moms can afford to stay at home with their children and are happy to do so. And sometimes the decisions we make have to do with happiness too. Sometimes mom is happier with a work/home balance, which makes for a happier kid. Every situation is different.
The other 'battle' I see is singles vs. parents. But by singles I also mean couples without children. Something happens once you have a kid, you see everything differently from your friends without kids. One example is, when you're single, you only notice the one screaming kid on a plane. When you have a kid of your own, you notice ALL THE OTHER KIDS who are perfectly quiet and well behaved on the plane. As a parent, you begin to stop focusing on the negatives and become grateful of the positives in life. And I was one of those single people who couldn't stand a crying kid in public. Until I had a kid, and knew how hard it was sometimes. Basically, once you become a parent you don't see eye to eye with your single friends anymore. It becomes harder to relate, which is why parents start friending other couples with kids. You start surrounding yourself with others who focus on the positive as well.
My husband told me he had a conversation with someone about my 'situation' recently. They had asked him if I worked, and he said yes she did. They asked what I did for a living and he said 'homemaker' (now, I dislike the word 'homemaker' but that's beside the point). They were confused with his answer so they asked if he paid me, since he said I worked. He said no, but their question was if I worked. It's still work even if I stay at home. He wasn't trying to make a point out of it, but sometimes people need to rephrase their questions more carefully, as 'work' sometimes isn't associated with a salaried job. Bonus points to my husband, by the way.
It's been almost 3 years since I've 'worked' at a company. I had 9 jobs between the ages of 16-29. I've lived independently and paid my own bills. There was no way I was ever too 'lazy' or 'stupid' for work. And it is insulting that some people out there believe the reason I don't currently work is because I'm incompetent, or using my child as an excuse to not work. It is work to raise a kid. I can raise her myself or I can pay daycare to help raise her as I work, either way someone's gotta do it and I chose to do it. It's as simple as that.
My plan was to start working again after my kid goes to school. That was always the plan. Except it's practically career suicide after 5 years of unemployment. It is something I'm willing to sacrifice, since I wasn't interested in staying in my field anyway. I can do graphic design, but it doesn't mean I enjoy it.
In order to not go crazy sometimes, I have to remind myself that we aren't defined by our job status or salaries. As I have no job status or salary, I would be considered absolutely worthless. We only have one life. Who cares whether I stay at home or work right now? Why do we get so carried away trying to prove ourselves within social norms? In the end, none of it matters. Nor do any of these made up battles between stay at home moms, working moms, parents or singles.