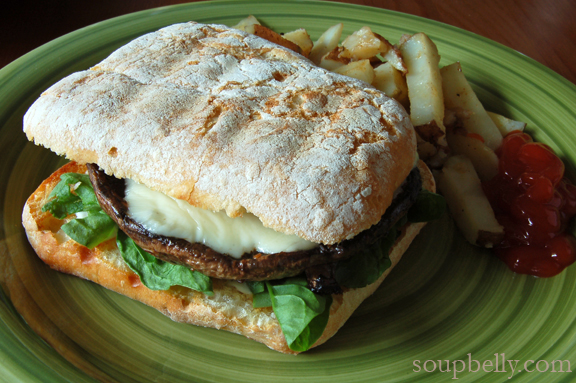 Someone asked me the other day if I come up with my own recipes. Unless I say 'adapted from', or post a link from another website, it's something I whipped up myself.
This is one recipe that I whipped up myself. I don't usually follow recipes or instructions as I cook – I just cook, take pictures, and write them all down afterwards. It's usually inspired from looking at so many blogs and food photography websites, and that pushes me to create something of my own.  I guess I'll show my thought process (aka directions) in each photo so you realize that sometimes, I'm pleasantly surprised something has come out worthy of posting!
…But I don't show the disasterous attempts that I've made :)
And also, I don't take photos of every single meal I make, while it looks consistently that way on my blog. If you've noticed, I posted 3 meals this week, 2 of which were from the weekend, and one from the weekday. We eat more than that!! It is also not a hassle to take photos of each step, as I just pick up the camera and go 'click' each time. I estimated it takes 5 minutes extra on top of my cooking time. I don't know why I'm telling you all this, except that some people were concerned that it takes so much effort on my part, and looks like a hassle to them. I LIKE doing this. Believe me, I like photography as much as cooking, and if someone were to ask me what my ultimate job would be, it would be a TOUGH call. I enjoy doing this blog and having the chance to revamp my photography skills. 
Portabello Mushroom Burger – with Mozzarella cheese, fresh baby spinach, and lemon-herb mayonnaise. (serves 2)
Ingredients:
2 Portobello mushrooms, washed
2 bread rolls (I used panini rolls)
2 small handfuls of fresh baby spinach, washed
2 large slices of cheese (I used mozzarella)
Olive oil for drizzling
Marinade for mushrooms:
1 Tbsp olive oil
3 Tbsp red wine vinegar
1 Tbsp italian seasoning
1/4 tsp. salt
1/4 tsp. pepper
Lemon-Herb Mayonnaise:
2 Tbsp. mayonnaise
wedge of lemon, juiced
1/2 tsp. dried rosemary
Directions:
Discard the stems and wash mushrooms thoroughly. I forgot to trim the stems and had a hard time grilling them, as my portable grill couldn't close completely shut.
See….I make mistakes too. But I never claimed I was perfect, either.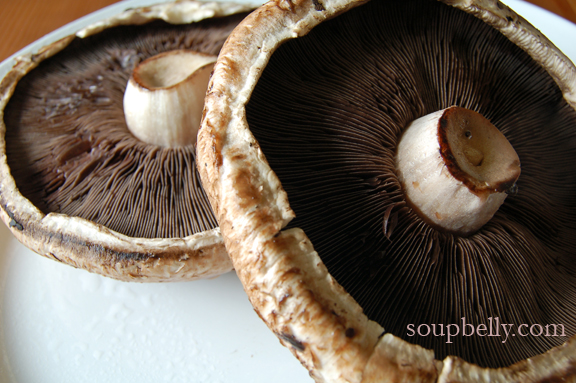 Mix ingredients for a marinade in a bowl.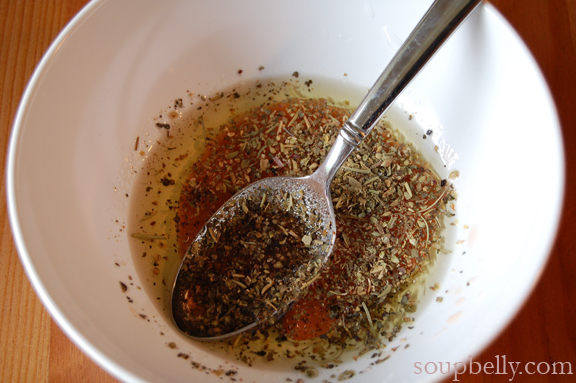 Place mushrooms and marinade in a bag and refrigerate for 30 minutes.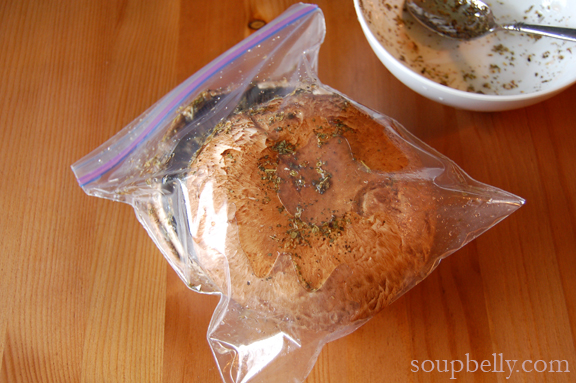 Using a hard roll like this will prevent the burger from getting soggy from the juices of the mushrooms.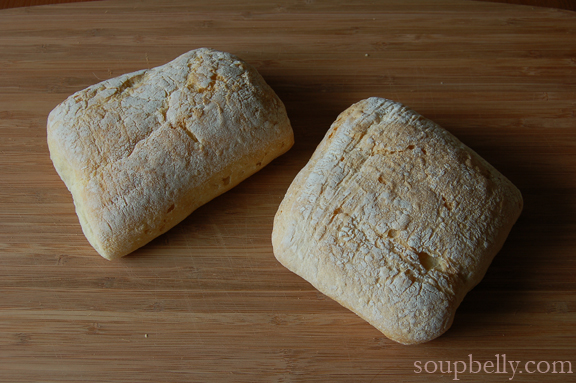 Cut in half, drizzle olive oil on the insides and toast the bread, either on a grill, toaster oven, or regular oven.
I used my George Foreman Grill for this burger. These are the disadvantages of living with no backyard…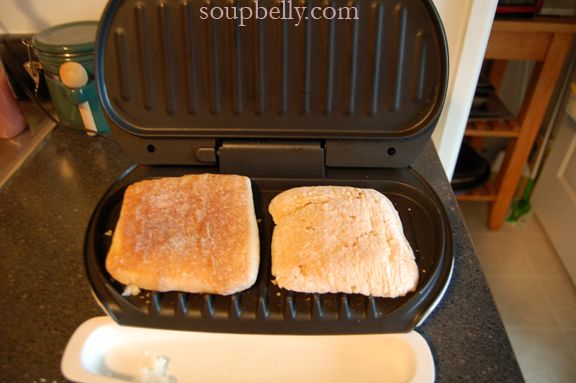 Then place mushrooms on the grill. Grill for 5+ minutes or until you think they are ready. Most of the juices should have cooked out of the burger.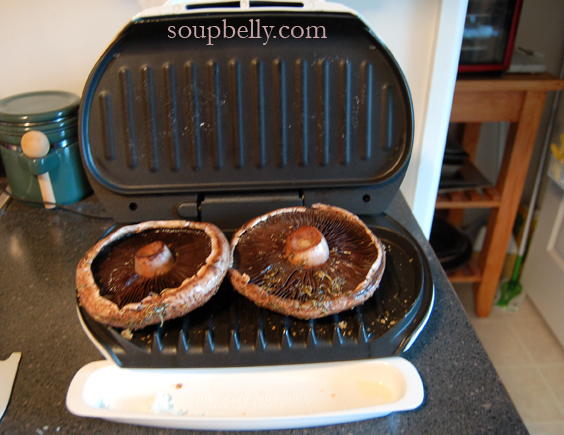 Mix ingredients for herbed mayo in a bowl.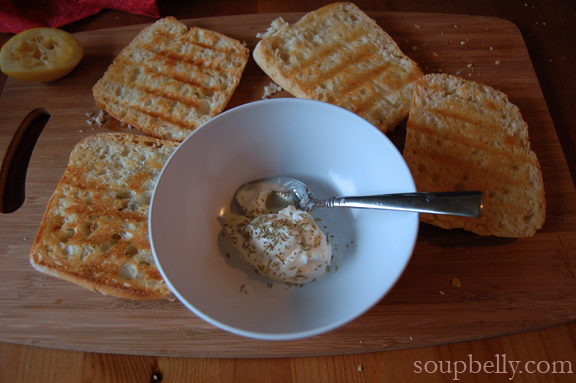 Spread on rolls.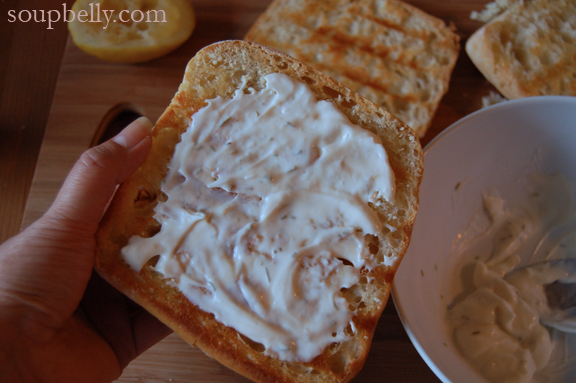 Place fresh baby spinach leaves on the rolls.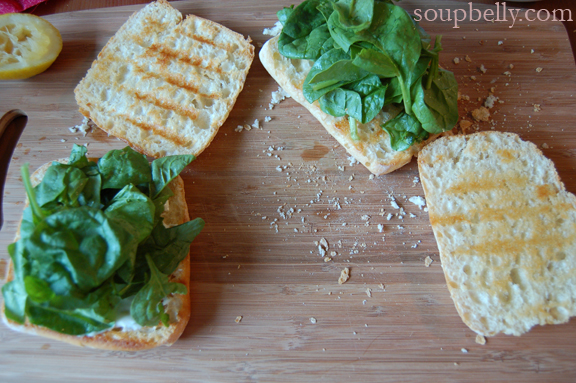 Place mushrooms on the bed of spinach, and top with cheese. The mushroom will be hot enough to wilt the spinach and melt the cheese.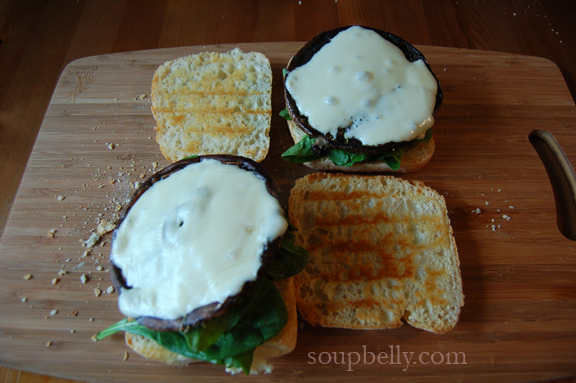 And that's it. I served mine with a side of homemade fries. Recipe coming soon…