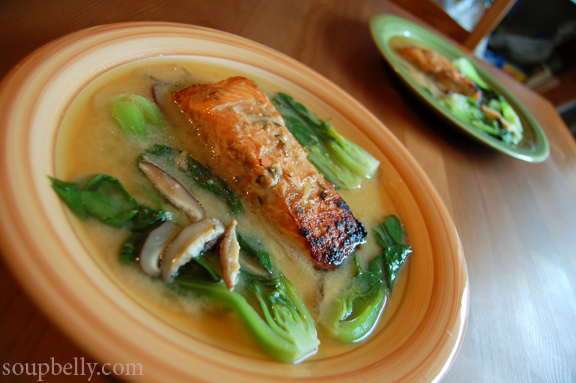 I have to write this quick – we have a guest visiting for the weekend and I have to clean and prep all the food for the weekend aughhhh! We never have guests, but we love to entertain. So like I said, I have to make this quick. Stop babbling.
This recipe is for Miso marinated broiled salmon, served on a bed of miso broth with baby bok choy and shiitake mushrooms. Whew, that was a mouthful. I feel full just TYPING it.
Miso paste is the new love in my life. This is the first time I've used it, and it is sooooooo good. It tastes like…naturally occuring MSG. I don't know how to describe it.  It's really really flavorful, sort of like truffles or oysters. That's really the best way I can say it.
By the way, I paid $30 for this dish at a fancy restaurant. After eating it and loving its simplicity, I also kept thinking…I could've made this at home…I could've saved $30…..
Miso marinated broiled salmon, served on a bed of miso broth with baby bok choy and shiitake mushrooms (serves 2)
Ingredients:
For fish:
2 Tbsp. white miso paste
2 Tbsp. mirin (or in my case, an opened bottle of wine as seen in picture below)
1 Tbsp. rice vinegar
1 tsp. sesame oil
1 tsp. minced ginger (or in my case, 1 tsp. powdered ginger)
2 6 oz. salmon fillets
For broth:
2 cups chicken broth
2 cups water
2 Tsp. white miso paste
8 pieces of baby bok choy, sliced in half vertically
8 small shiitake mushrooms, sliced thin
Directions:
Make your marinade paste for the salmon.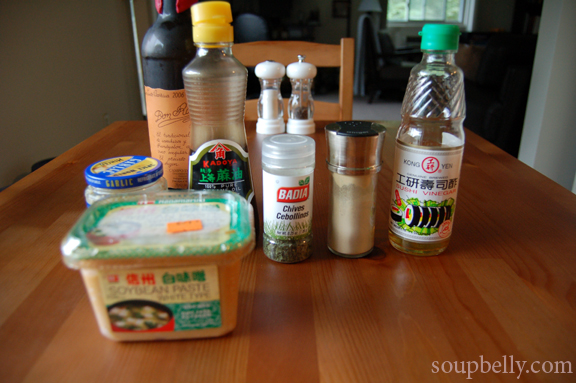 I found this in the refrigerated section of my asian market. I got the white type, sounded simple enough for my first attempt.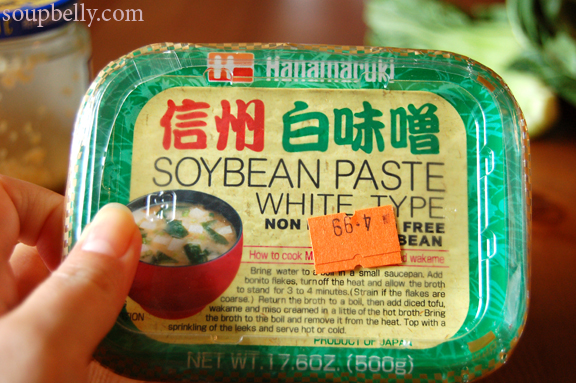 Add the first 5 ingredients in the recipe for the paste: miso, mirin, rice vinegar, ginger and sesame oil.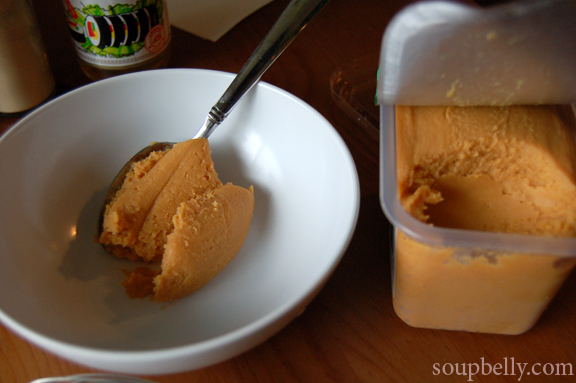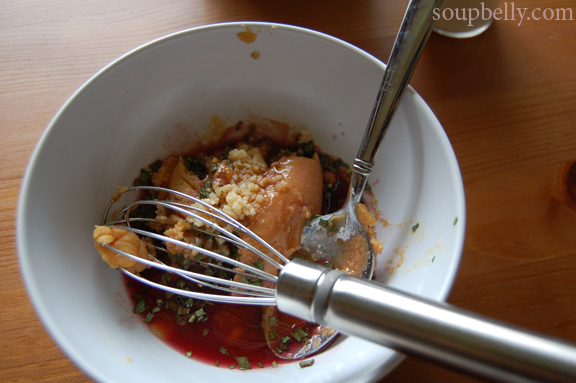 I tasted a pinch of it just to see what it was like. Overpowering! I could tell it was going to be GREAT on the fish.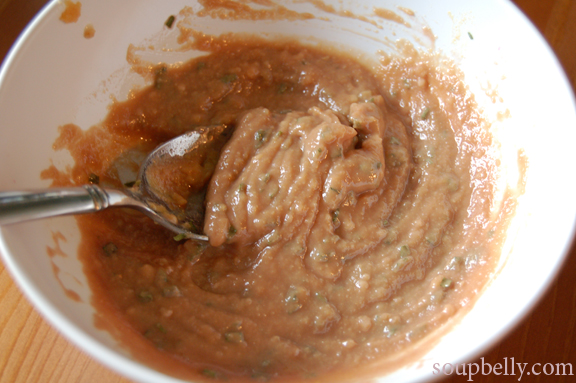 Place salmon fillets in a zip lock bag, and smear paste on both sides. Marinate for 30 min. to 2 hours in the fridge.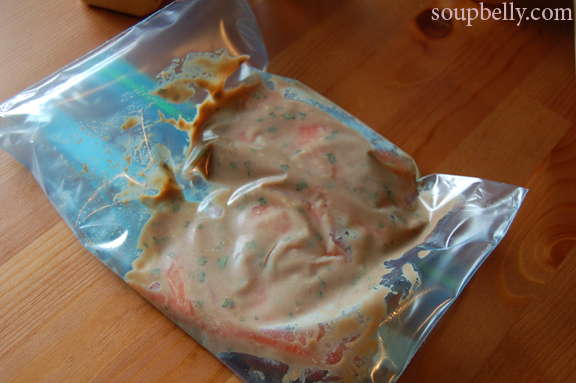 For the broth:
Cut all the baby bok coy vertically in half, as displayed below. And cut all the shiitake mushrooms as seen below.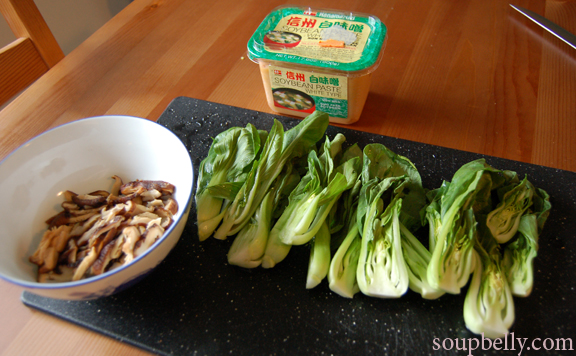 Heat water and chicken broth to a boil.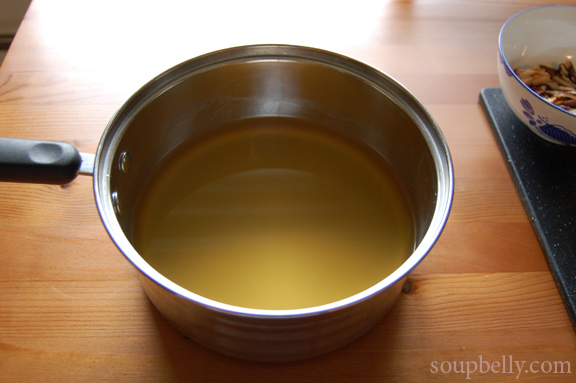 Lower the heat to medium, add mushrooms.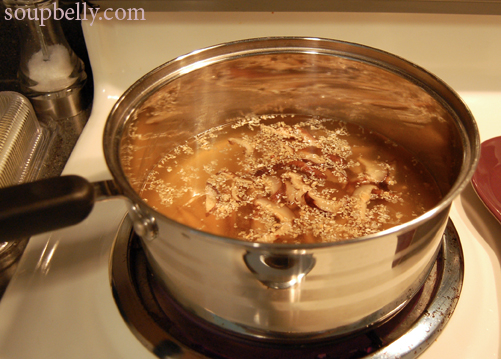 Mix the miso paste with some water to make it more liquid-y. Increase heat to the broth up to boiling again, and stir in the miso.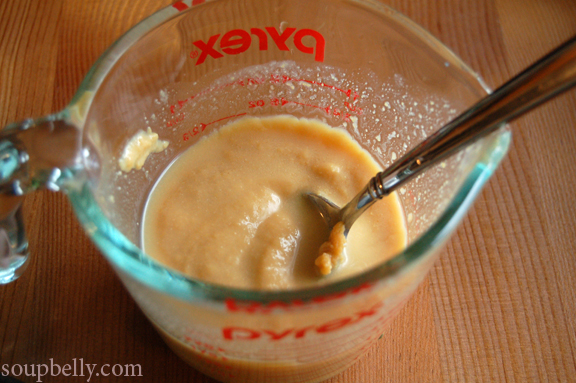 Lower the heat again back to medium, and add bok choy. Cook until the bok choy is blanched (vibrant green) and remove from heat.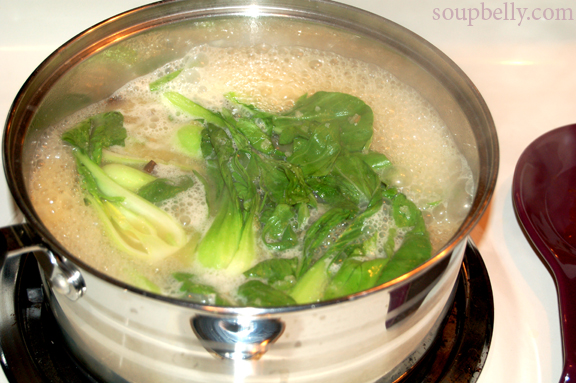 For the fish:
Set the oven to broil (low setting, if possible, it's more forgiving). Place salmon on greased aluminum foil covered baking pan. Trust me – you need aluminum foil for broiling. It'll save you A LOT of scraping/soaking later.
Broil for 6 minutes on one side, flip, and broil for another 4-6 minutes. I do this with the oven door open a crack, so I can watch it carefully and let the smoke come out. The broiler is SO HOT that it doesn't matter if the door is open or not. The intense, direct heat is what cooks it fast.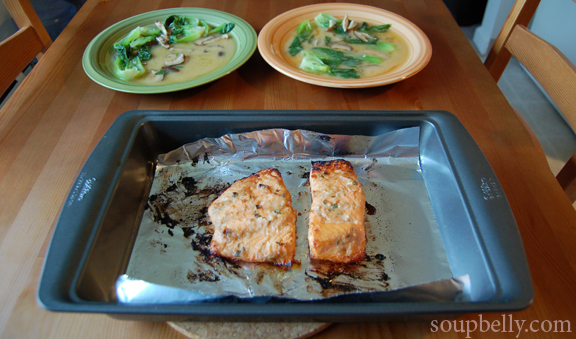 Scoop some bok choy, mushrooms and broth into a deep dish or large soup bowl. Place salmon on top.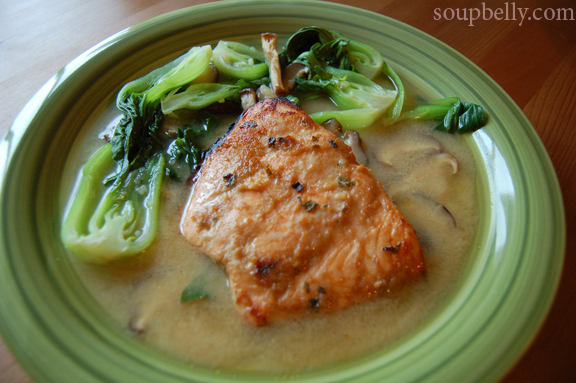 Charge $30 to whoever you're serving this to.