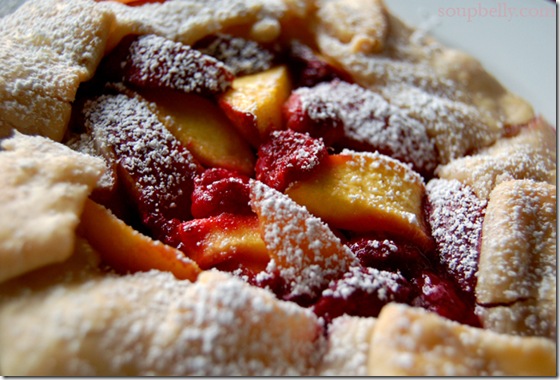 I'm baaaa-aaaack!. From a weeklong camping trip with the in-laws. I actually had a really good time, if you were wondering. And for once, I didn't come home tired, achy, or sore. I'm waiting for it to kick in but it hasn't yet. I'm not gonna ask why I feel so great, I'm just gonna go with it. Maybe it was the fresh air.
I'll do a camping post soon with lots of pictures. And for those of you reading who were on our camping trip, please e-mail me your preferred code name for my blog, in case I post a picture of you. Actually, I will definitely post a picture of you. And if you don't get this message, I'll make up a kickass code name for you.
So, what the heck is a Galette? A Galette is a French term for a freeform cake. For me, it means, 'let's use up that one pie crust in the freezer with some fruit and see what happens.' It's easy, it tastes delicious, it has a French name, and people will be amazed that you can whip something up without following a recipe.
I mean, I'll give you a recipe, but it's so easy after you do it the first time you'll remember how to do it the second time. Or at least the third time.
Also, if you don't have nectarines, you can use other stone fruits in your possession. Make a few of them to use up all that excess fruit in your fridge.
Like, if your husband comes home with TEN POUNDS OF FRUIT.
I'll explain later.
Nectarine and Raspberry Galette (serves 4-6)
Ingredients:
1 pie crust
3 nectarines
handful of raspberries (hey, we don't need to be accurate for a freeform pastry now, do we?)
1/2 tsp. ground ginger (optional)
1/2 tsp. vanilla extract
3/4 cup sugar
Directions:
1) Preheat oven to 350 degrees.
2) Slice nectarines and put into bowl. Add sugar, vanilla and powdered ginger. Mix. Fold in raspberries just until coated with sugar mixture. Don't overdo it. Wait a few minutes until the fruit and sugar become syrupy.
3) Roll out pie crust onto baking sheet, preferably one with a lip (the juices from the fruit might leak out onto the baking sheet). Pour fruit into center. Fold all sides towards the center. It's freeform, so anything goes. Bake for 40–45 minutes. Eat.
________________________________________________________
At first, I was planning to use 4 nectarines, but since I had so many raspberries I only used 3 nectarines.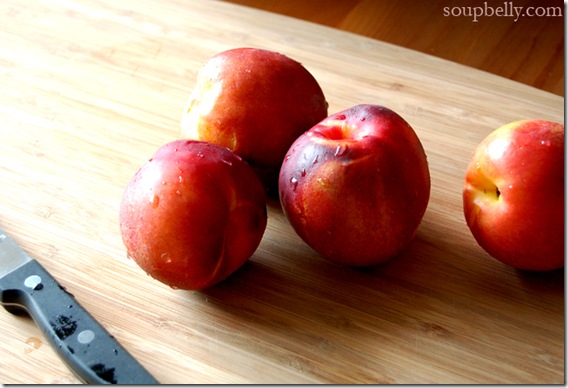 Why did I have so much fruit?? The day before we had our in-laws and friends visit us in Rochester before our big camping trip together, my dear husband decided to go pick fruit before heading to work. At around 7am, he came home with 10 pounds of cherries, strawberries, raspberries. Don't ask me WHY he picked 10 pounds of fruit. I think he just went overboard with picking, since there's so much fruit on a farm, and he can easily lift ten pounds, he figured 'hey, why not?'
I was originally going to make a plain old nectarine galette, since I already had nectarines in the fridge, but the picked raspberries didn't taste that great, and putting them in a pastry with sugar would fix that problem immediately.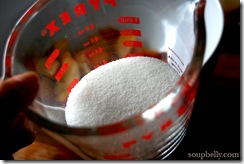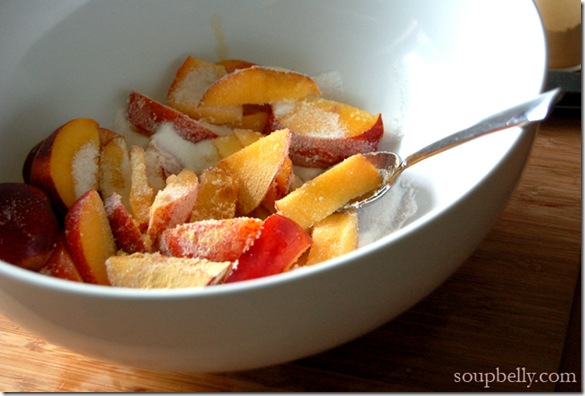 Carefully fold in the raspberries without squishing them much.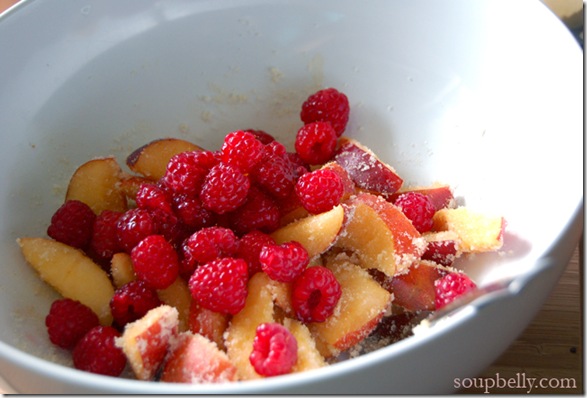 Leave them be for a few minutes until the sugar gets syrupy.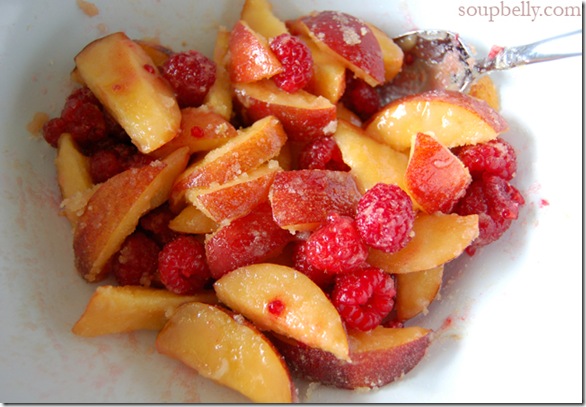 My one old pie crust in the freezer has seen better days. It was already split before I even unrolled it, and then I had to mold it back together.
Plop fruit onto center of pie crust.
Oh, and use a baking sheet with a lip if possible. The fruit juices ran off the sides and it didn't make the oven smell that great later on.
Squeeze sides toward the center. See how crappy (I mean, freeform) it looks?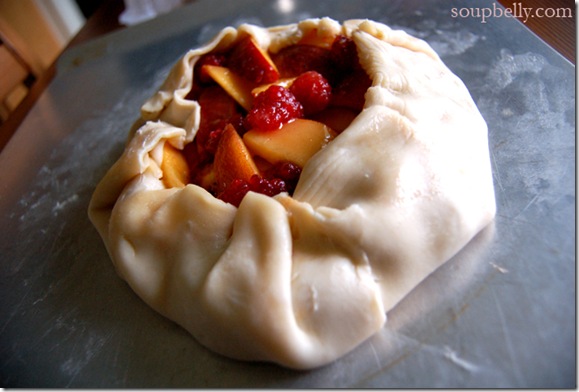 This is my kind of pastry!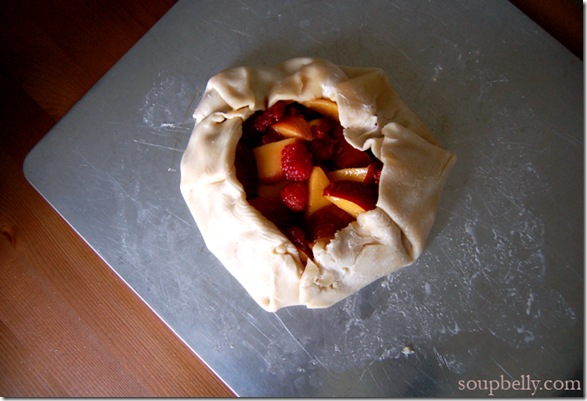 Bake for 40 to 45 minutes, and you'll come out with something like this: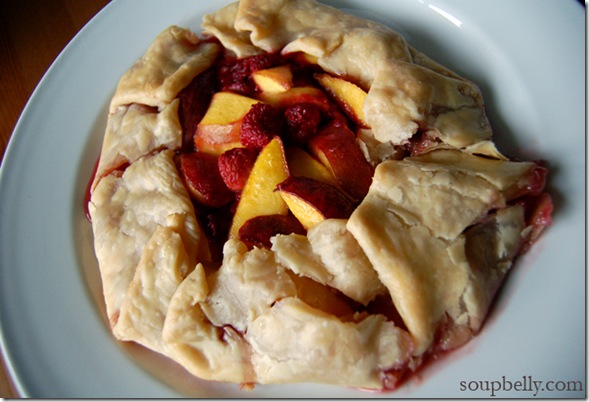 It smelled wonderful.
Sift powdered sugar on top to make it look really fancy.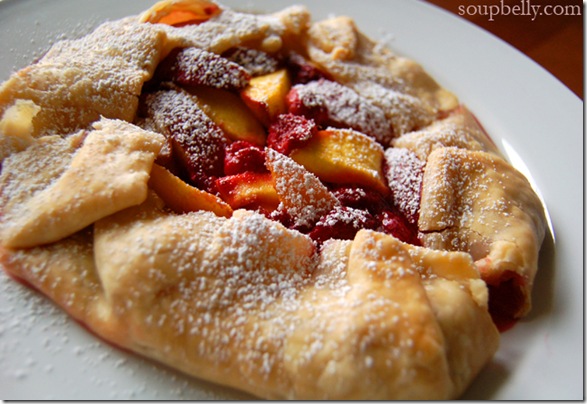 I'm not sure how you serve it, but what my husband did was sit there and rip pieces off with his hands.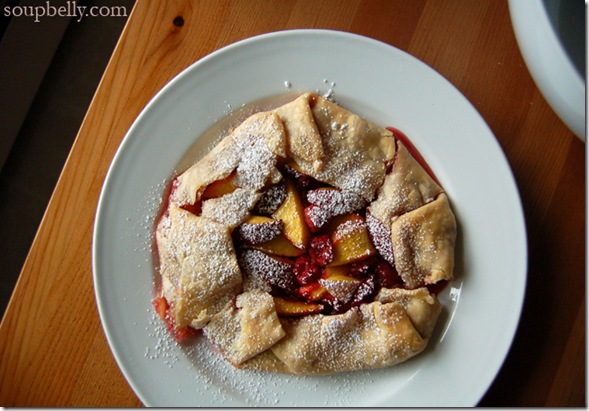 Enjoy!