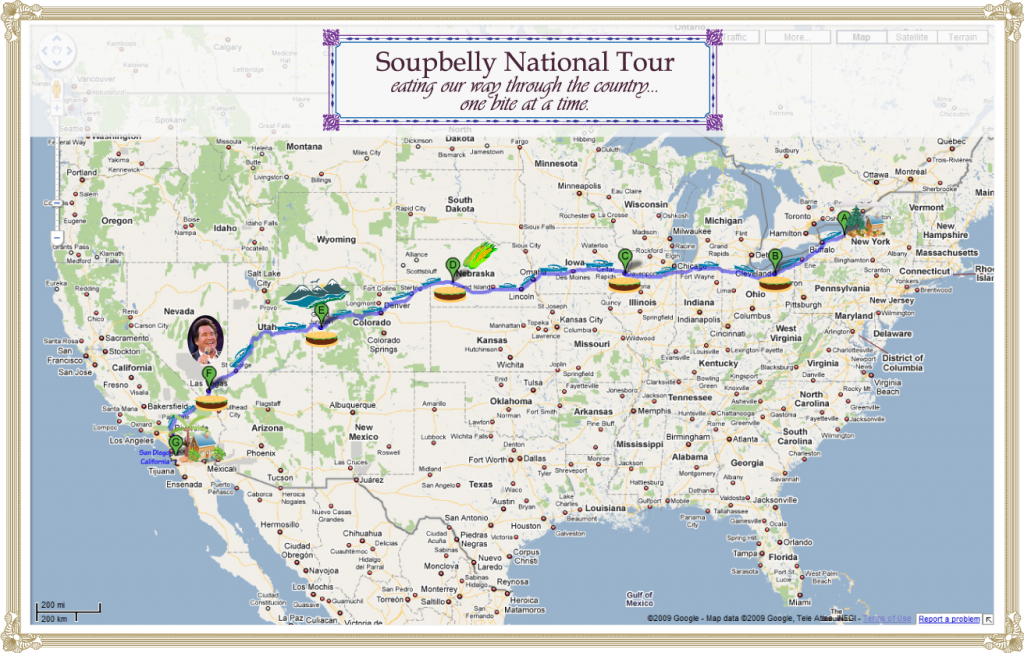 *Click on the map to see an enlarged version.
Conversations taken out of context from various conversations concerning this map.
Chris: You know, you're gonna lose a lot of readers for being so…..weird.

Chris: Why are we driving a blue car on the map? We don't have a blue car.

Chris: Are we eating burgers at every stop?

Chris: I don't wanna see Wayne Newton in Vegas, I wanna eat king crab legs!

Chris: You know they cut the crab legs perfectly in half so you can get the meat out easily?

Chris: Did you know they cut the crab legs perfectly in half using a saw?

Chris: I'm looking for a buffet that serves clarified butter with crab legs.

Chris: Nebraska has corn?! I thought they had wheat!
I could go on and on and on quoting my husband. These conversations kill me. When he's not trying to be funny, he's hilarious. As long as he gets his crab legs and I get my clarified butter, nothing else matters on this road trip. Well, getting to our destination, but other than that….crab legs.
I spent a good hour on this map when I should've been packing this morning. Procrastination! We have one more week in Rochester then we hit the road. So much to do…so little time. Our lives have been so hectic lately we fall asleep before the lights are even off then get up tired and achy. We rush around like chickens with their heads cut off, half the time forgetting what we're supposed to do, wondering whether we've already done something or not, how many more boxes we need to buy, how much bubble wrap we have left, and the list goes on.
It feels like we're planning our wedding all over again. At least I didn't cry this time. Not that he did.
We modified our locations as follows:
Cleveland, Ohio
Davenport, Iowa
North Platte, Nebraska
Grand Junction, Colorado
Las Vegas, Nevada
San Diego, California
This was the only way we could've done it that saved the most time. It looks like we're curving up then back down, but there's no straight route from Rochester to San Diego. We could've curved down through Texas I think, but we might do that some other time. It might've taken longer, and with our little kitties, we don't want to be in the car with them as much as they don't want to be in the car with us. We are still passing through Chicago (I think) and Denver (maybe) but this route has been modified so many times, if I didn't write the new list down, I'd have no clue where we were going.
With this new route, we might be able to drive to each stop and check into a hotel before the sun sets (crossing fingers) and find a nice place to eat for dinner. As for lunches, they will probably have to be eaten on the road, since I feel so uncomfortable with our poor cats in the backseat.
I'm also packing our swimsuits for this trip. Hopefully each hotel has a pool that we could swim in each night to loosen up our achy muscles from sitting in a car all day. It sounds weird to plan on swimming each day on our trip, but I think it'll help refresh us.
And no matter what, Chris is ADAMANT on hitting up Vegas. It's like the whole point of driving cross country, for him, is to eat crab legs. It reminds me of Woody Harrelson's plight to find a twinkie in Zombieland.
Ok, I should get going right now. My computer is probably going to get packed up pretty soon. I'll have my laptop from now on so we can update you on our adventures.